---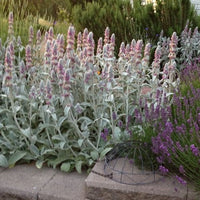 This popular selection of lamb's ear forms a dense carpet of soft, fuzzy, silvery grey leaves, adding interesting texture to rock gardens, children's gardens, and containers. It is often used as a small scale groundcover or edging due to its spreading capabilities.

'Fuzzy Wuzzy' blooms in early summer with wooly, lavender spikes rising above the cool silver foliage.

It grows best in drier climates where it will naturalize where it is happy in well-drained, lean soils, even thriving under the shadow of black walnut trees.