---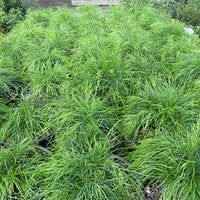 Fine, evergreen, soft, green foliage. A bright green mini selection from Japan. Graceful weeping foliage. The leaves are in fan-like tufts.
Good for moist shady areas all year round. Great in that boggy damp area of the garden. They are very easy to grow and are hardy.
Excellent alternative to Mondo Grass as a path border, a mass plant as a ground cover, or mixed with other grasses. Looks particularly effective when used around pot specimens. Good year round interest. Although they are water lovers, this species can take quite a bit of drought so this plant can be used as an accent in dry rock gardens.

7cm pot