---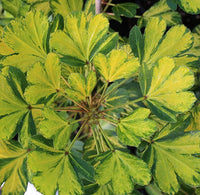 A striking hybrid form of this hardy native shrub The unusual evergreen foliage is carried on upright stems, the leaves are trifoliate, deep green overlaid with a marbled pattern of white and golden yellow.
It makes a perfect centre piece to a border or a specimen in a large pot.
Mature height around 3 metres.
Happy in dappled shade or full sun.